I haven't gone this long without posting in years. I've somehow managed to have an incredibly busy past two months since I returned from Canada. Very soon after I got back to Colorado in June, I turned 27. Then I decided that I would work from a different coffee shop in Denver every day that I was able for the rest of the summer. I made it to SIXTEEN different shops and worked, on average, six hours in each shop. I went to Purple Door, Downpours, Black Eye, The Bardo, Crema, Stella's, Cafe Max, Steam, The Molecule Effect, Roostercat, Starbucks (only once and because I was waiting for my car to be repaired and there was nothing else around), St. Mark's, Spur, Little Owl Coffee, City Stacks, and Huckleberry Roasters. I visited a couple coffee shops more than once, either because they had a good ambiance or something delicious to eat. Spur and Steam were my favorites, maybe because they were closer to home.
There were a few days when I had to use my backyard as an office space, like the week I was without a car because I got in an accident or the days I had to be home with the dog. Malta and I both had birthdays (she turned ONE!). On my birthday, the family and the pups and I went for a hike and had a picnic and then my mom and I had a spa day and then we all went to dinner downtown followed by Voodoo donuts. On Malta's birthday, I made her wear a hat and gave her a pig hoof filled with cheese and bacon and then I took her to the biggest, best dog park in the state and played with her until we could both hardly move.
When I wasn't lesson planning, course planning, revising my prospectus, writing and revising articles and essays and fiction of my own and of my friends, photographing, editing photos, submitting things, or organizing and planning for the coming school year, I was riding my bike with my parents, playing with Malta & Noops, getting tattooed, hanging out with my friends, learning to shoot portraits (practicing on myself as I was usually the only one around), and running from/confronting various emotional crises re: friends, family, work, drugs, dog, love, etc etc etc. Here's some photographic evidence of most of those things:
I probably spent equal time in Denver and Littleton (I even went to Boulder for about an hour), and I realized again and again that I could fall in love with Colorado anew each day for the rest of my life (though, to be honest, this is also true of Los Angeles). There were so many swoon worthy sunsets and sudden downpours, dark clouds and bright green horizons. The Denver I love now is so different from the Denver I inhabited six years ago when I was in college and saw Denver only as a convenient place for me to live and work due to its proximity to my school. But really, it's this whole world I'll never finish exploring and as new as it always seems, it's simultaneously also always filled with such intense memories of my childhood, my adolescence, and now, my adulthood. Almost everyone I've ever loved and almost everything important that's ever happened to me is/was in Colorado and that will never not be true and I'll never not be nostalgic there, no matter what new things spring up.
Speaking of nostalgia, while home I helped curate a project for my friend Emily Dyer who makes these gorgeous letterpress broadsides. This project is a portion of a larger project and is called "I Miss Everything About You," which could not possibly be more appropriate for me because I miss everything about everyone and everywhere all of the time.
I spent one of my final days in Colorado hanging the broadsides in places I miss. One of these days I'm going to write the rest of the article I was writing on Emily's work when I interviewed her back in 2012 when I still lived in Salt Lake. Here was my post about this installment of the project:
I got to read a ton of amazing books while planning my spring semester course on Los Angeles, the surreal/fantastic, and the apocalypse.
And, just like every summer (except last summer because I bailed in protest), I went to the Denver Post Underground Music Showcase on South Broadway, because that small stretch of street with its bars and venues and shops and people in the Baker District is what the arteries of my heart look like. And even though I have to accept that the days of all local bands playing The UMS are in the past, there is still a lot to love about a community that comes together to enjoy damn fine music all day every day for four days in a row in the middle of a hot Colorado summer every year. (Oh and I also went to a brand new music festival called The Bluebird District Music Festival).
This summer, like every summer, I had to leave Colorado and come back to LA. I won't write yet another blog post on how much it pains me to leave my home and about how torn I am between LA and CO every day of my life. I'll just say that this year the transition was made infinitely easier by the fact that my best friend from college moved to LA with me. We caravaned and had amazing iPhone app walkie talkies and got a lot of Starbucks and stayed in a motel in Beaver, Utah with our respective animals (three dogs and a cat in all). And just knowing this piece of my heart from home lives here now makes my life so much easier and brighter.
The remaining two weeks of summer in LA were a mishmash of beach hangs, ice cream eating, friend cuddles and conversations and celebrations, dog adventures, time with my neighbors, dog sitting, party going, tons of yoga, and lots of neighborhood wandering and gardening. I also started on the last parts of my tattoo with a new artist named Roger who works out of a parlor in a skate shop up the street from me. Here's a little bit of all the adventure:
I subscribed to Blue Apron two weeks ago, so I've been cooking a lot of fresh meals. Both "fresh" and "cooking" are new to me, but it's going well so far. I've loved all the food, it's saving me a lot of money, and I'm realizing I actually find cooking somewhat meditative. I usually let old episodes of Arrested Development play on my iPad in the kitchen while I chop and boil and blanche and mix and plate. Here are my foodstuffs:
Three nights into being home, I actually decided to sell all my furniture and buy all new furniture. I managed to sell everything on craigslist and quickly bought some great stuff to replace it all. I feel so much cleaner and clearer now. I also got rid of a lot of clothes and shoes. I hang on to everything, but my friend moving out here to start her new life made me anxious to start my own life here anew, so I knew I'd have to let go of a lot of stuff I've just carried with me over the years. I threw away soda bottle that a guy I was obsessed with when I was 18 gave me one afternoon at work. Little stuff like that that still holds meaning, but that feels too much like it's weighing me down. It took a lot of emotional effort to get rid of this stuff, but I really and truly do feel like I've started over and it feels like infinity.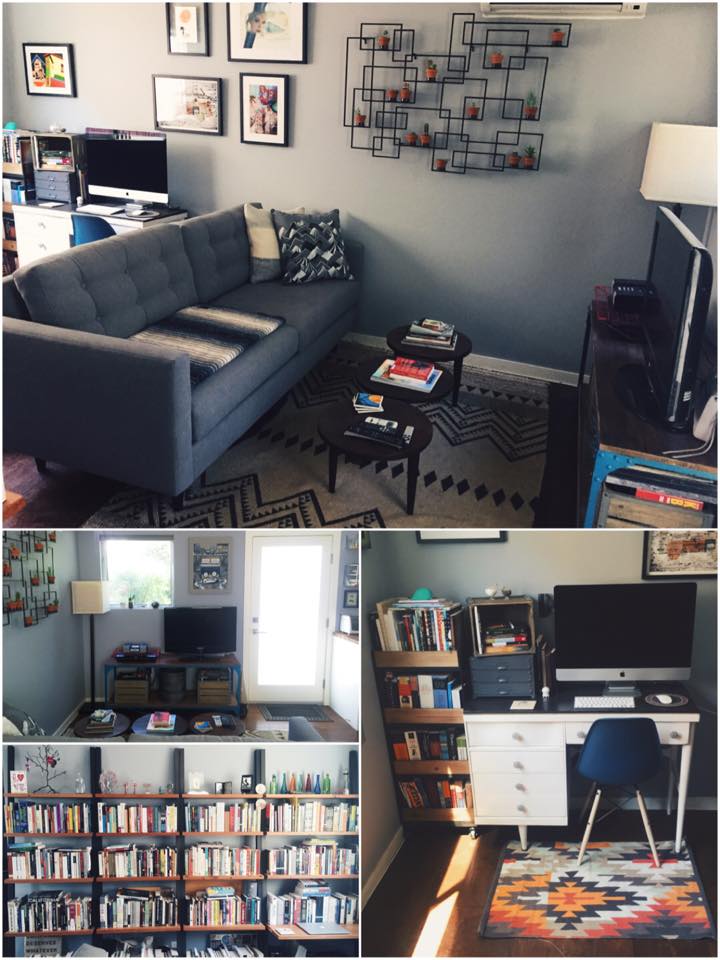 Coincidentally, the department I teach for also moved out of the office space they've occupied for at least 20 years, so my workplace is now also so fresh and so clean clean. We're in an old chemistry lab and it has such great science quirk and charm.
Return to the office marks the end of summer and the beginning of a new semester. I'll be teaching with the texts used in another course my students are taking this fall called Authority, Love, Rebellion, and all I can think of every time I go to lesson plan is Arcade Fire's "Rebellion (Lies)," the lyrics from which served as my Facebook photo album title for my summer in Colorado. But the main lyrics that keep running through my head are come on hide your lovers/underneath the covers. 
every time you close your eyes…
Postscript: I'm not sure why I haven't felt inclined to update lately. I'm only even doing this post for my own records. I used to keep such a thorough journal of my daily life from the time I was about 15 until the time I was about 24, but eventually I starting blogging so much that my journal felt redundant. I think now I use instagram as my main means of documenting my life, so the blog feels redundant. But I'm not going to bail. I'll always need a space to vent my existential drama in a vague but inappropriately specific way. I like putting parts of my life together here and narrativizing them and seeing the connections and disconnections and creating some kind of public record of this thing I try so hard to control, but that constantly feels just beyond my grasp.