Dispatch from Seattle International Airport:
This is my first time blogging on my updated website after migrating from spoonsandsatellites.blogspot.com. One of the many things I did while at DHSI was finally do a massive website update. I did a lot of non-course related things at DHSI because having class from 9am-4pm every day five days a week for two weeks put me in the mood to work, so any time I wasn't doing class things, I was still working. Unless, of course, I was exploring gorgeous British Columbia.
I stayed in this wonderfully perfect airbnb studio apartment that was a stand alone house with a lofted bedroom in the backyard of this artist woman's home. The house was in Cook Street Village, which is a super cute, quiet part of town just outside of downtown and just walking distance to the coast and to a lovely park. This little village had some of the best restaurants I've ever been to.
Every morning I woke up at 7:15am, got ready for school, walked past Starbucks and got a chai latte and a blueberry muffin, then took the 7 bus to the University of Victoria for class that ran from 9am till noon lunch break and from 1:30pm till 4pm. At this point I usually took the bus back home and either explored the area or did work before going to sleep at 10pm, when it was still light outside.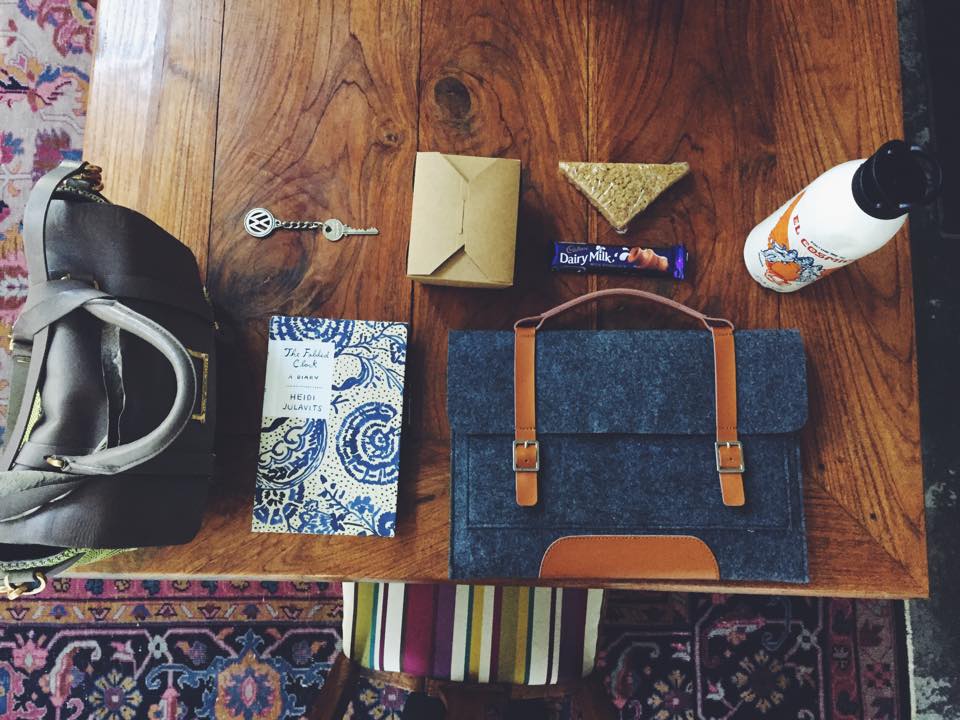 Victoria is great. It's just the right sized city for me. It has delicious food [lots of vegan/vegetarian options], epic views, mild weather, and lots of quirk and charm. I loved walking along the shore, looking at the boat houses, finding new cute coffee shops, restaurants, and boutiques, and walking home through the park. Yesterday I finally had a free day, so I did a little shopping, found some great shorts and a jean jacket and a couple soft button up shirts.
One day I went to a place called The Regional Assembly of Text, which is a stationary shop in the lobby of this old, historic building that houses offices. I spent money I don't have on amazing cards, postcards, and tiny zines. If your mailbox is lucky, it will see one of these things soon.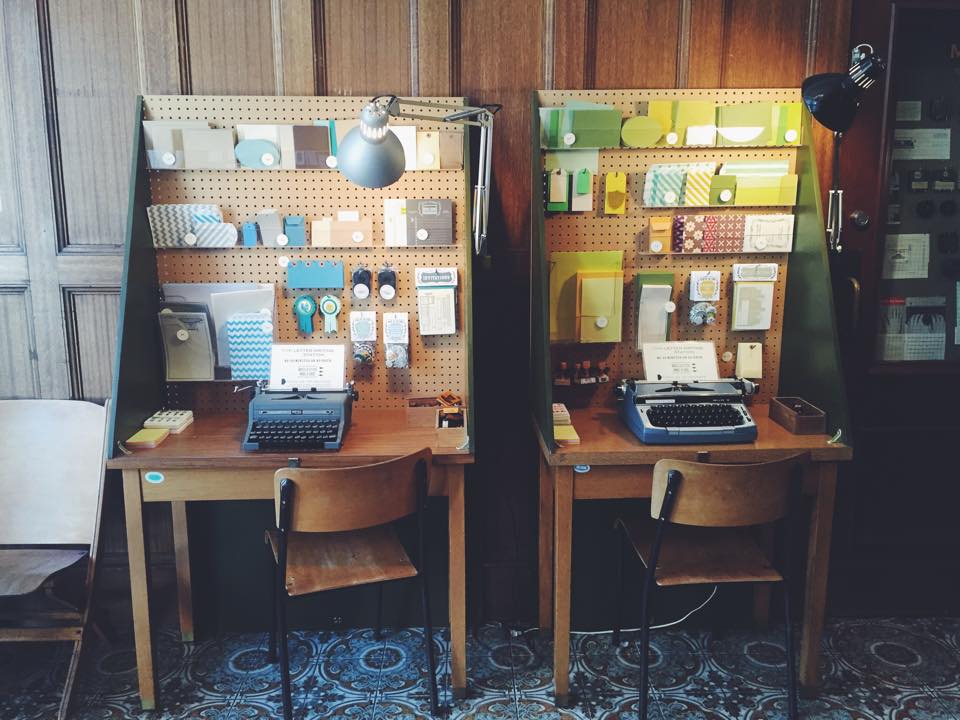 One day, after class on the Friday of my first week at DHSI, my friend from USC and I rented bikes and road down the coast of Vancouver Island until we got lost and discovered a lighthouse on an old navy base. It was a good adventure.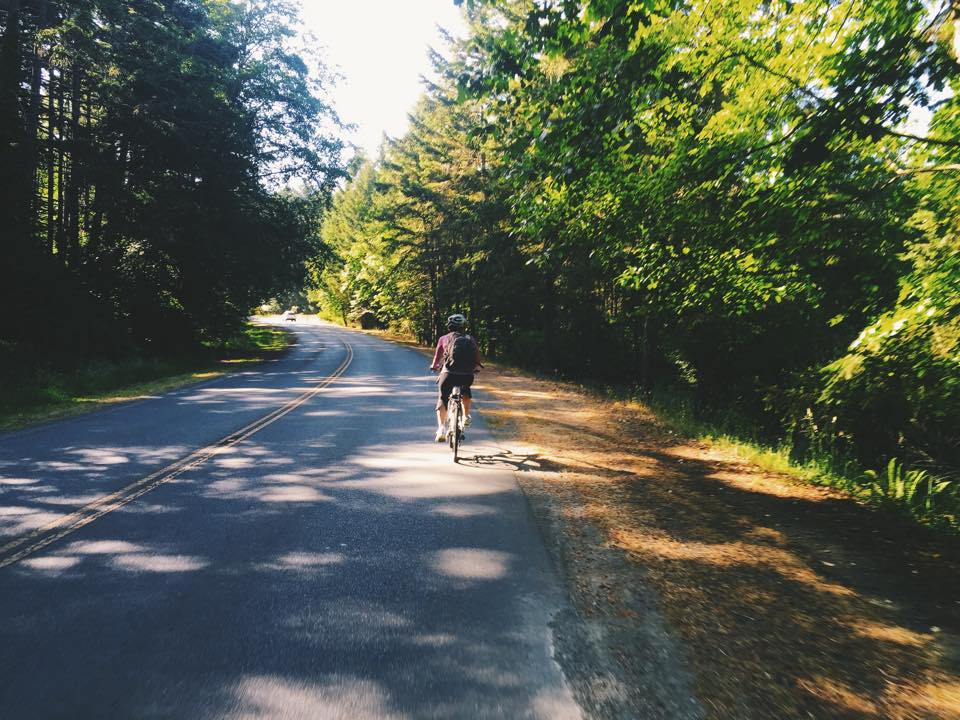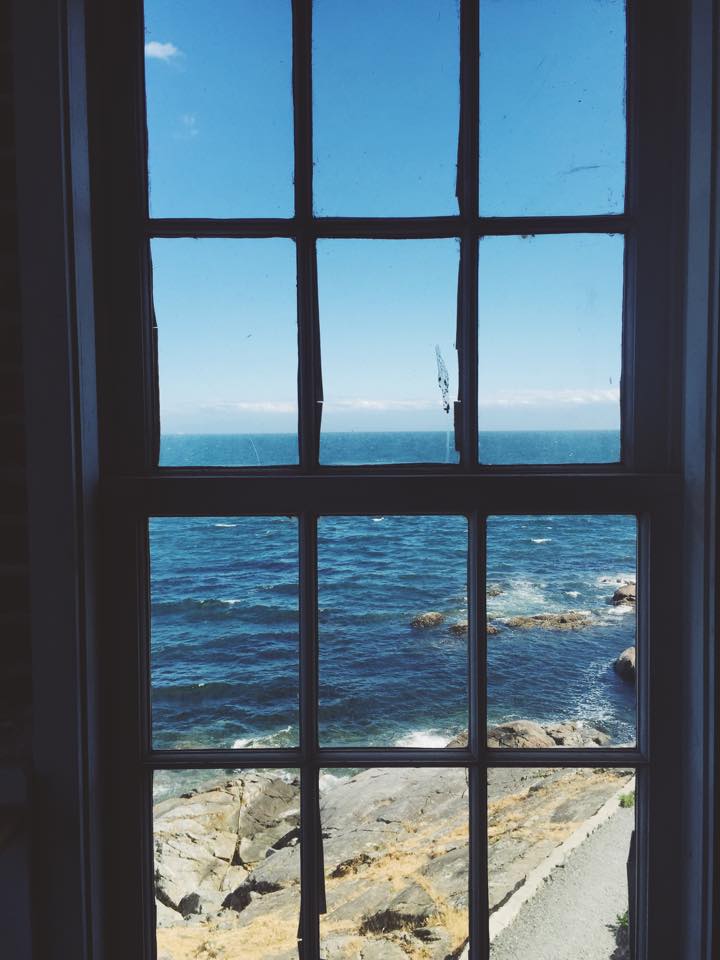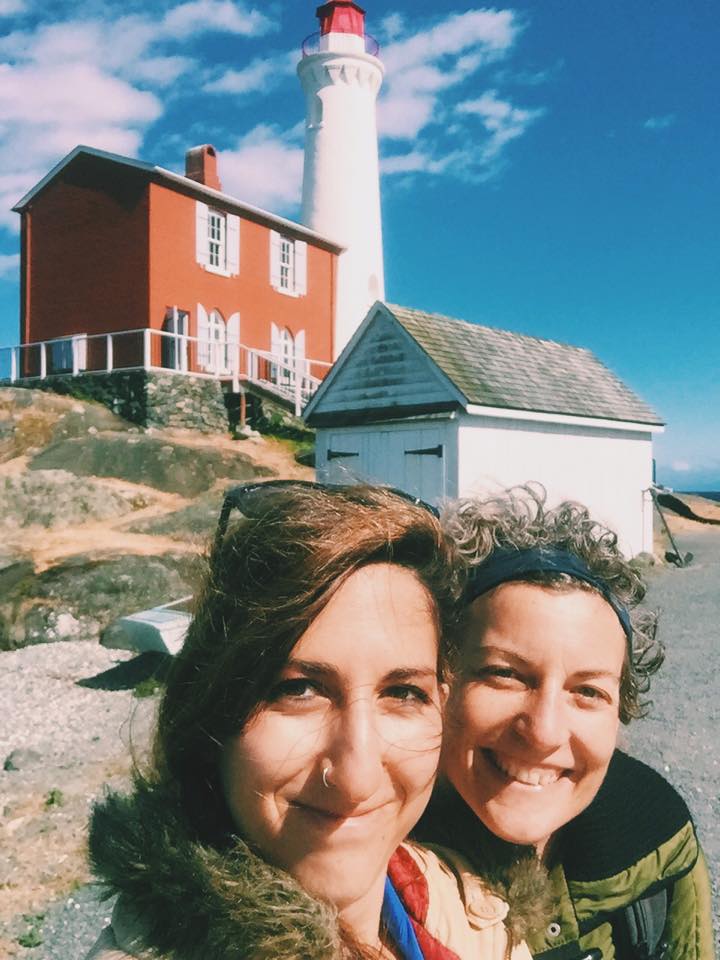 Yesterday I had another adventure. Rented a kayak and did a tour around the harbor and through the gorge. The weather was perfect and we saw river otters, seals, and a gigantic jellyfish.
During the week I worked. A lot. More than I do during a school year. Or at least as much. It made me realize how important it is going to be for me to get away every once in awhile to a quiet place where I have no distractions, no pets, nothing, so that I can get everything done. I'm not good at working constantly for long periods of time, nor am I good at working intensely for a few hours each day. But I've learned that I am good at working intensely every day for a short period of time, provided I have no distractions. As much as I missed my animals, they make it pretty hard for me to focus at home.
I took two courses at DHSI this year because I got scholarships for both, so I was able to attend two whole weeks of the institute. The first class was Intro to E-Lit and the second was Advanced E-Lit. I've been working with/on/around E-Lit for quite a long time, but this is the first time I've ever really been able to take a class on it. And while the intro class really was quite introductory, it provided me with some new resources that have been immensely helpful. In it I wrote a recombinatory flash fiction piece using an excerpt from a larger thing I'm writing. I'll post a link to this if it every lands in a publication somewhere. I also learned about things like the Electronic Literature Dictionary, ELMCIP, and the CELL projects and some new things about the Electronic Literature Organization. I've resisted the ELO for a long time because to me E-Lit is not about canonizing but about remaining in the margins of the canon in order to eventually help disrupt it or distract from it, and I feel this work can't be done if we become ourselves an institution that also excludes, curates, and defines in a way that creates yet another margin and another space of exclusion. But resources don't necessarily mean exclusion, so I was grateful to get the chance to learn more about a few things. Now if only E-Lit and DH related organizations can learn how to have conversations about experimental writers of color and queer writers who also do this work, if we can talk about just how queer new media is, I'll feel more comfortable in spaces like DHSI and the ELO.
In the advanced class this past week, we actually did have these conversations, which I appreciated immensely because my colleagues were so smart and kind and thoughtful in their reflections and commentary that it gave me hope.
In addition to the flash fiction e-lit piece I built using Jim Andrew's StirFry code, I also built a recombinatory flash critical essay about this awesome project called Street Ghosts. I also can't show you that unless/until it lands in a publication, but it was exciting and fun to build and it was exactly the kind of experiment I've always talked about doing with some of my dissertation material. You can check out my quick insta video of it below.
We also played with an open source expansion grammar tool called Tracery, where I tested this weird series of words together with some of my double exposure images.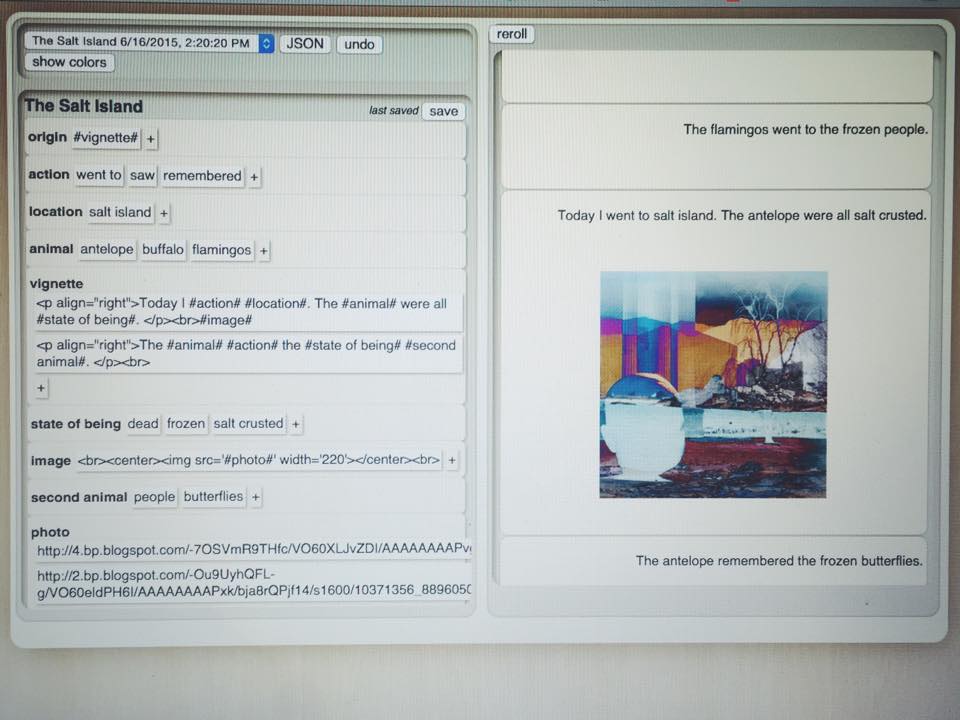 And in addition to updating my own website and making and exploring all this e-lit, I also built websites for two of my writer friends whose work I love. Turns out SquareSpace is a great platform. Is it blasphemous to say that on this WordPress site? I like WordPress, too, but for different things. If you want something simple and beautiful, SquareSpace is the way. If you want something more robust and customizable, WordPress is the answer.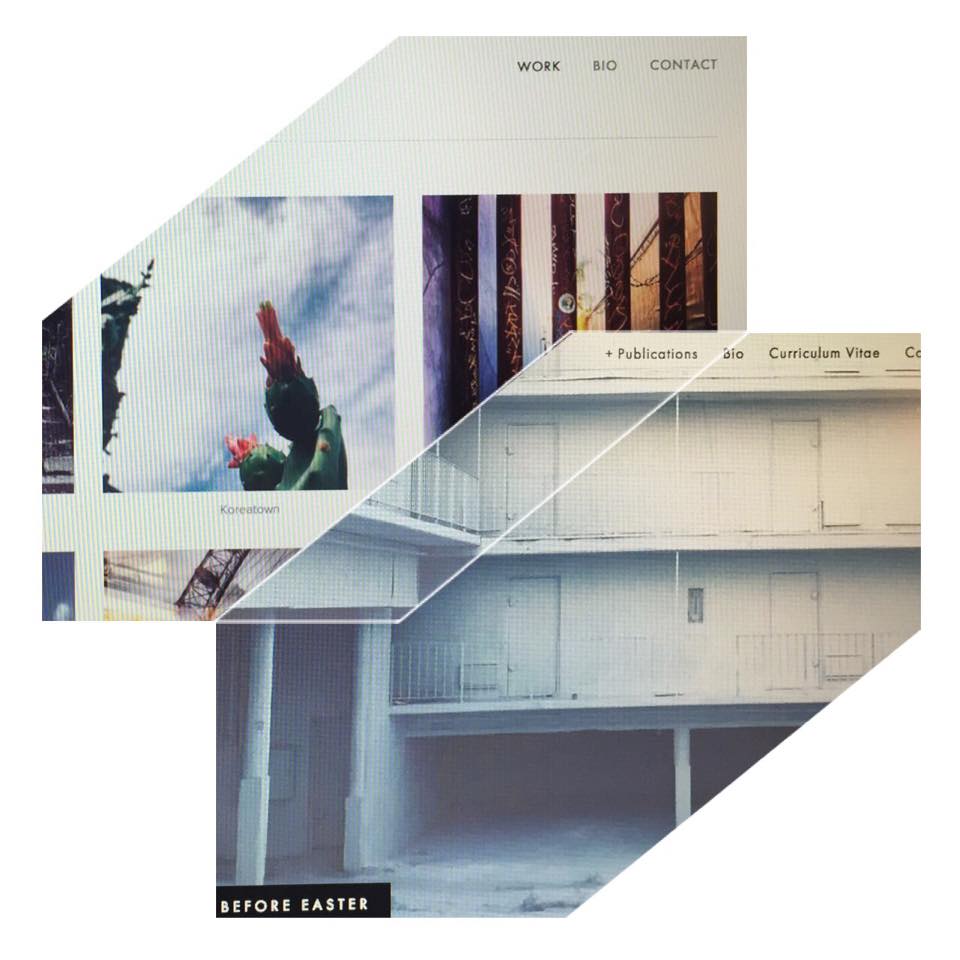 I'm writing all this from SeaTac while I wait for my inevitably delayed flight back to Colorado. I was not looking forward to Canada. To DHSI. I didn't want to leave my puppy and cat. I didn't want to get on yet another plane. To deal with my stupid passport with my stupid name spelled wrong. To have to depend on wifi for the use of my phone. To work. To try new things. But thank god I did. These past two weeks have been immensely important to my life in ways I think will keep becoming apparent long into the future. I met some excellent people and learned some very helpful things and made some good work and got to have a cool new adventure. Oh and did I mention I went to Vancouver on the weekend between Intro & Advanced E-Lit? And that it took me 4.5 hours to get there and 5 hours to get back and that the transit involved two busses, a ferry, and a train, and that I only got to be in Vancouver for 24 hours exactly and that I had to stay at a hostel like a 21 year old but that it was glorious and hilarious and that I got to meet a long time Twitter friend IRL and that I got to see a high school friend I never get to see? Cause all that happened. Here, I have proof:
Until next time…