For years now, I've wanted a dog. I don't know how many years, exactly. I don't know when it started. The farther I got from love and my former relationship, the more my desire for a dog grew. Or maybe it was because I am getting older. Or maybe it was because I'd visited home a lot and my mom & dad's puppy had grown into a more well behaved dog who I enjoyed spending time with. Or maybe it was because suddenly everyone I knew had dogs, and their dogs were so cute and so fun to play with and to pet and I felt like my life would be complete if I had a dog of my own.
I started actively looking for dogs to adopt in mid-August because I'd finally come back to LA for the new school year. This is my third year in my PhD program, which means this year I am reading for exams. Anyone who knows me knows what a wanderer I am, how I am always gone, always busy. But I can't be that so much this year because I need to keep my butt grounded in some kind of chair as much as possible. And I even have a fenced in front yard, which is something I've never had before. So I figured now is the best time for a dog. Not just a dog, a puppy. Because I want a dog that I raised, who will be good and well behaved and predictable and bonded to me. I wanted an Australian Shepherd puppy because I had one growing up and she was the sweetest, prettiest dog. And Aussies are smart, can be trained easily, can do so many things, and are very active, which means a solid hiking/camping buddy. And since I usually hike and camp alone, it'd be nice to have a companion.
I looked everywhere for Aussies and Aussie mixes in Los Angeles. I went to a shelter, to at least 4 rescues, to an adoption event. I was registered on Pet Finder and Adopt a Pet. I checked at least 10 different websites a day, including craigslist, at least 15 times each. Each time I'd find what I was looking for, which only happened a couple times, I'd call the place and they'd tell me the dog was already undergoing the adoption process with another family. So I pretty much gave up. But then last Friday, I was about to leave the house to have my car's A/C fixed, and I decided I'd just check one more time. I saw a little black and gray and white fluffy Aussie mix who was on Pet Finder, but she was all the way in Riverside. I assumed she would already have been claimed, but when I called, they said she'd just become available that morning. I asked them to hold her for me since I'm an hour and a half away from Riverside, but they said they couldn't do that. I told them I was on my way, and I raced out into the desert.
When I got to Mary S. Roberts Adoption Center, the little girl Aussie I wanted was still available. I was shocked. I'd been certain someone would have come in during that hour and a half and claimed her. But they hadn't. When I met her, her name was Ilsa. She was 8 weeks old. She was wrapped in a blanket to avoid the transmission of germs that might be on the staff's clothing from handling animal control animals. She was so tiny. And fluffy. And calm. They told me she and her siblings were found in the middle of the desert in Riverside on a 115 degree day. There was no human or dog parent in sight. One of the puppies was already dead. Ilsa was the only girl. My dog, born in the place I am forever running to to find myself. I knew she was mine.
When I finalized the adoption process, bought some food and a leash and collar and a couple toys for the car ride home, they brought her back out to me wrapped in a blanket. I named her Malta. They handed her to me. Someone rang this bell thing. Everyone clapped. I smiled and waved. It all felt so strange. We walked out the door and into my car. We drove home an hour and a half with unreliable air conditioning on a hundred degree day. She fell asleep in my lap immediately. The second I could see the DTLA skyline, she woke up.
Here's her first week at home: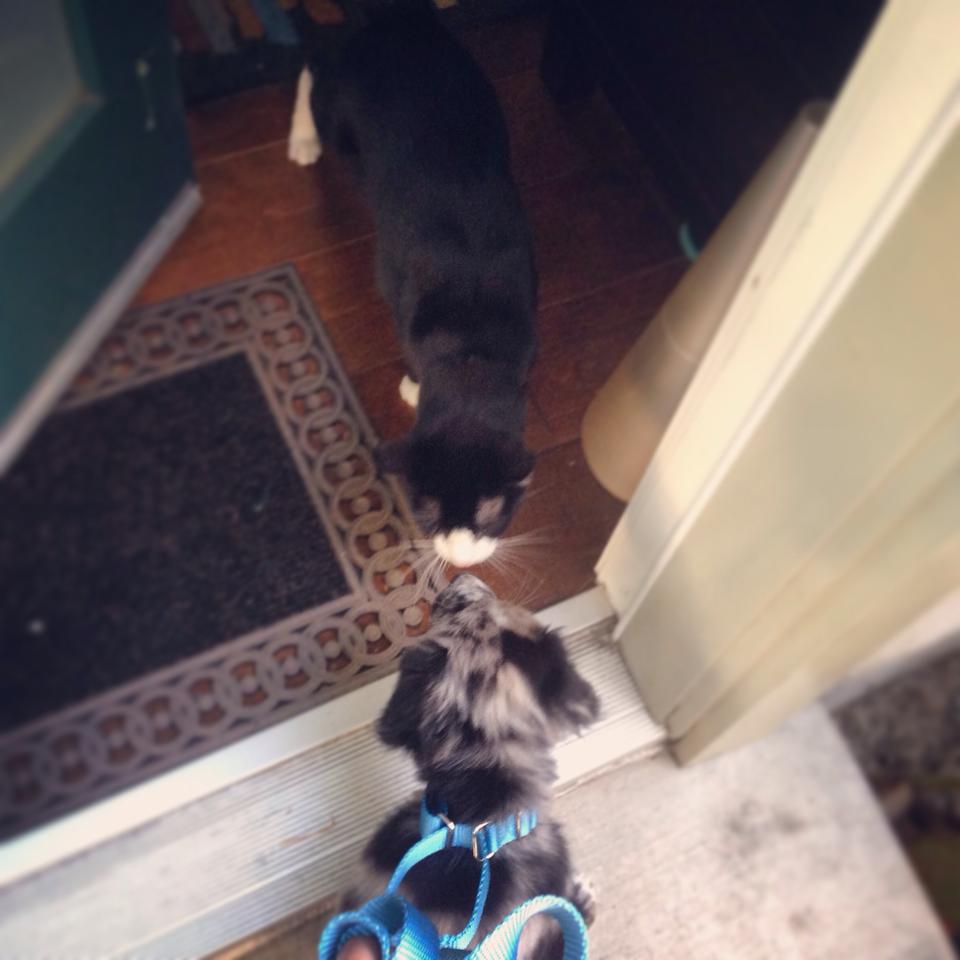 Navidson & Malta meet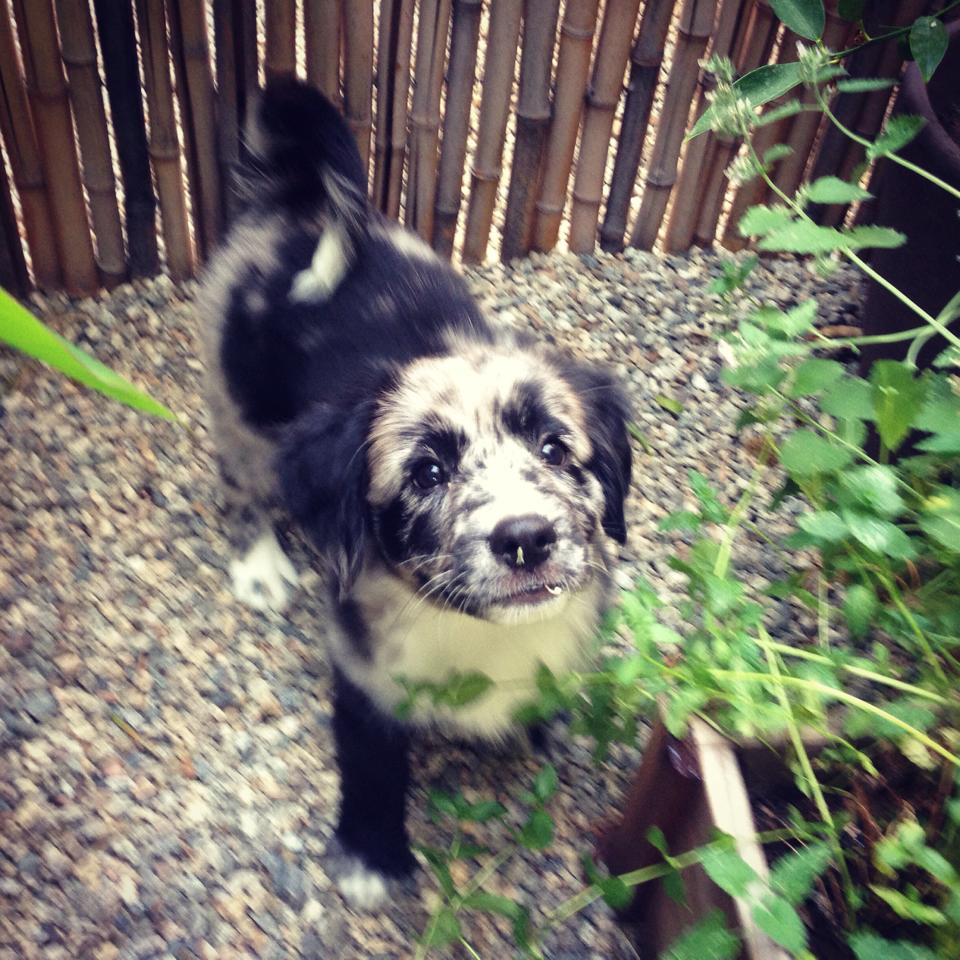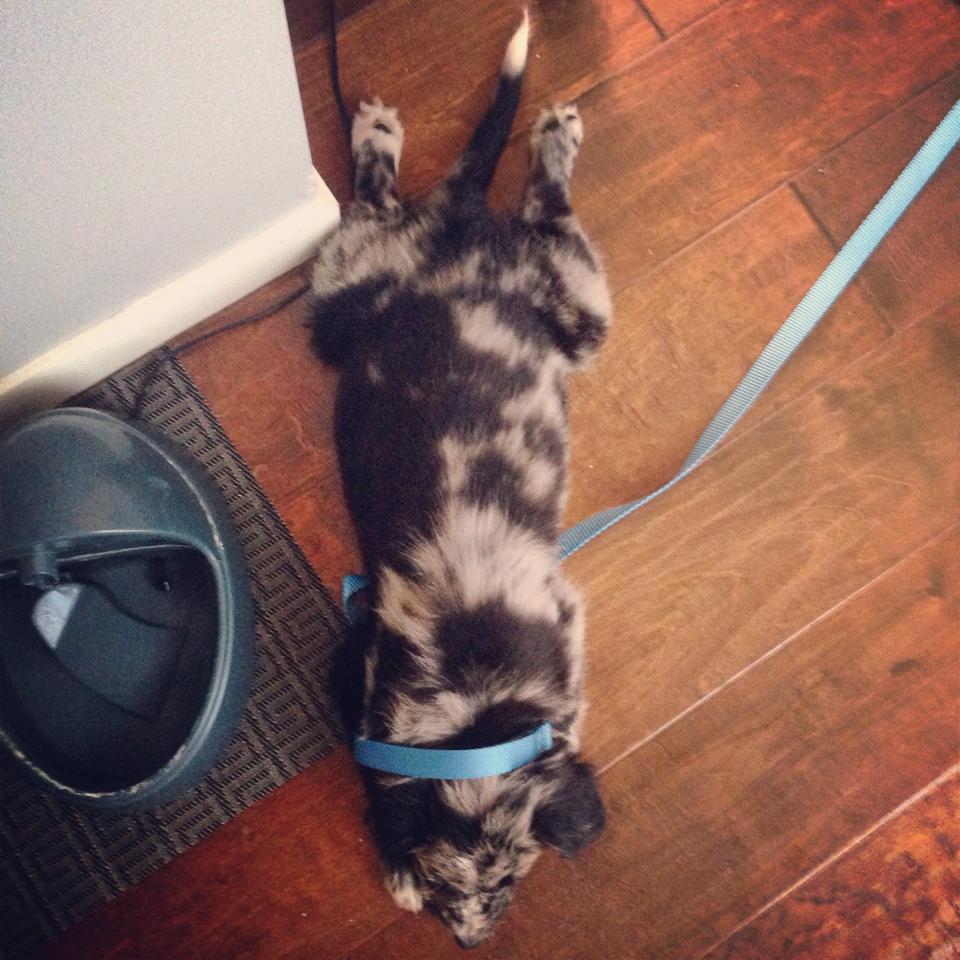 She is obsessed with the water bowl
Navidson is curious but skeptical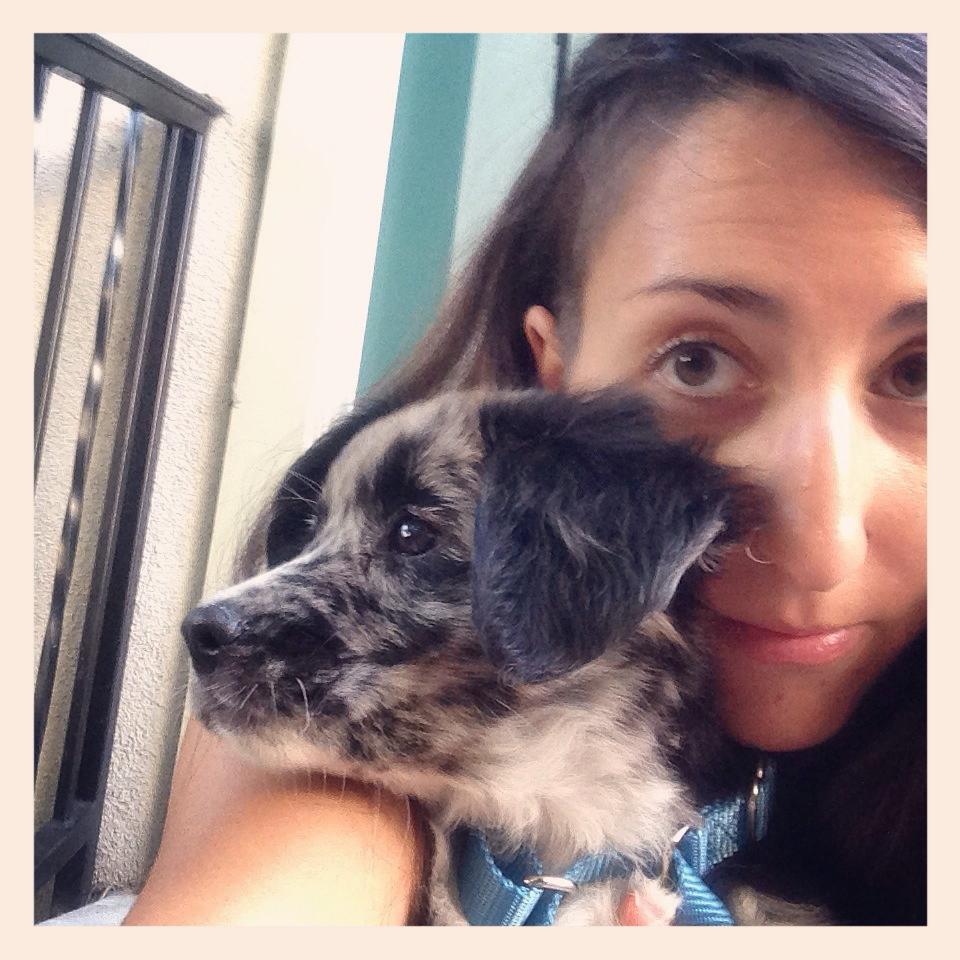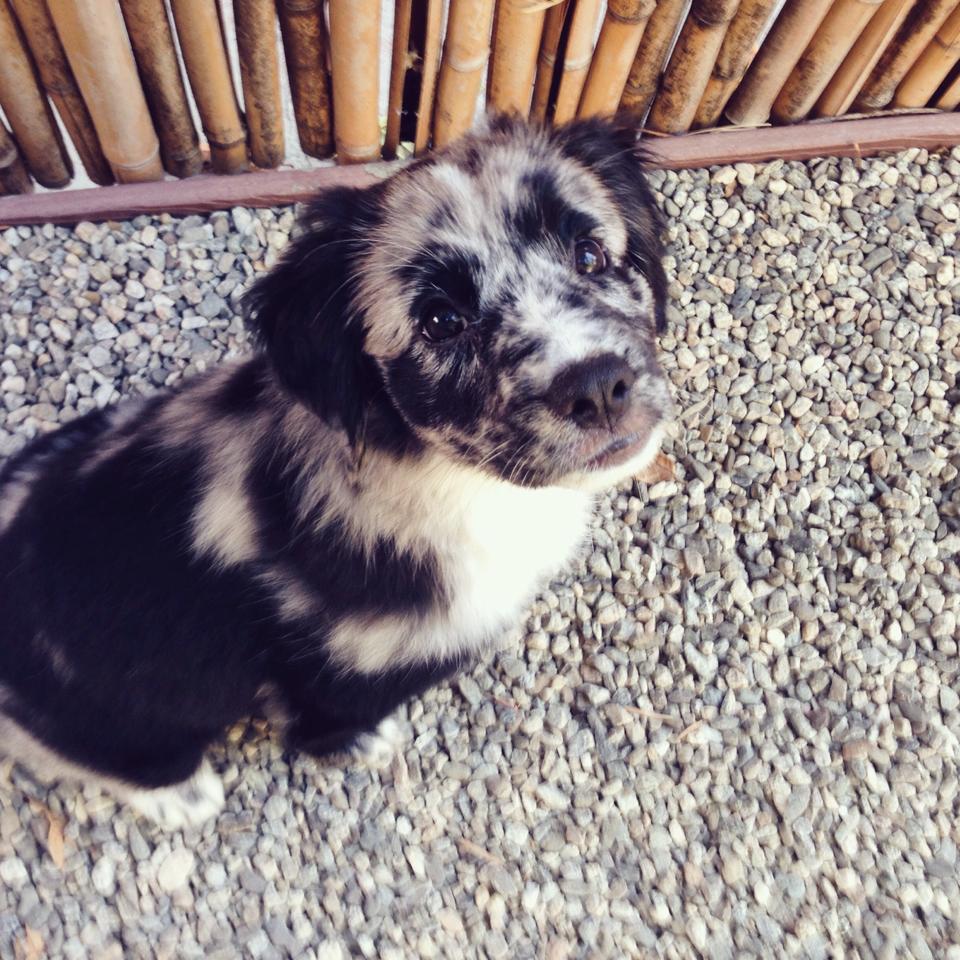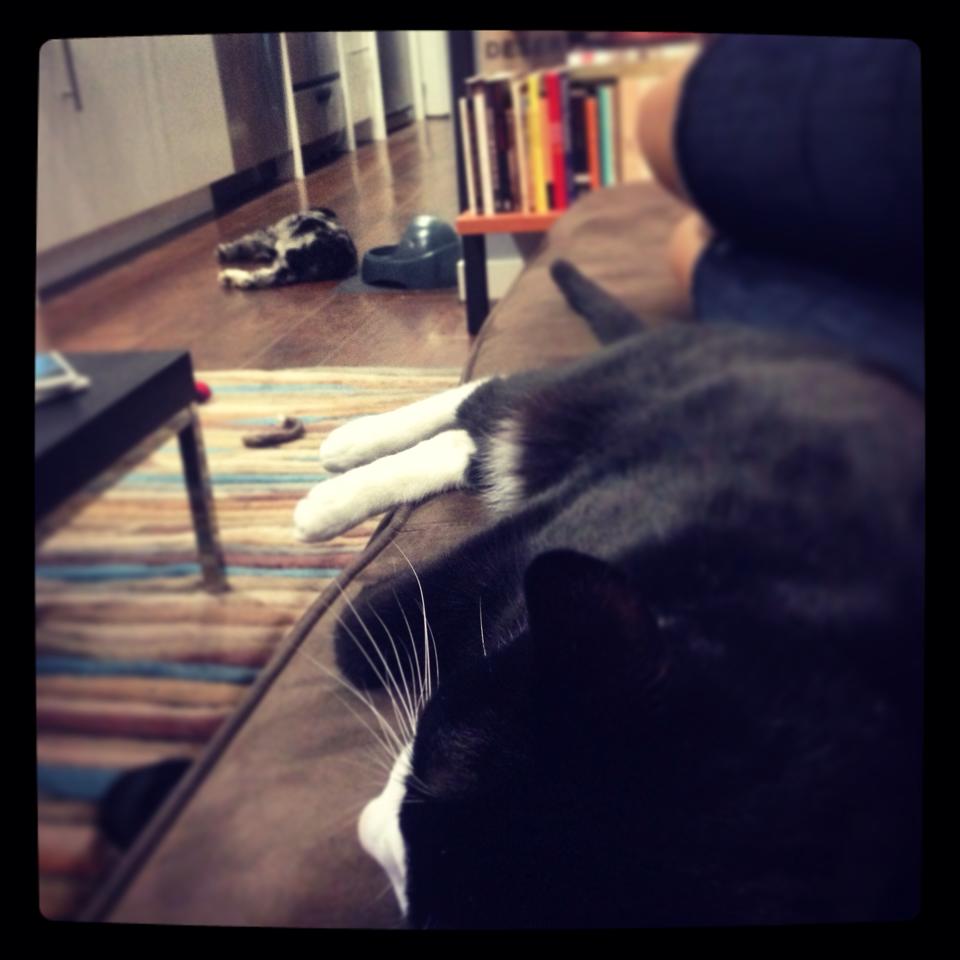 We are all exhausted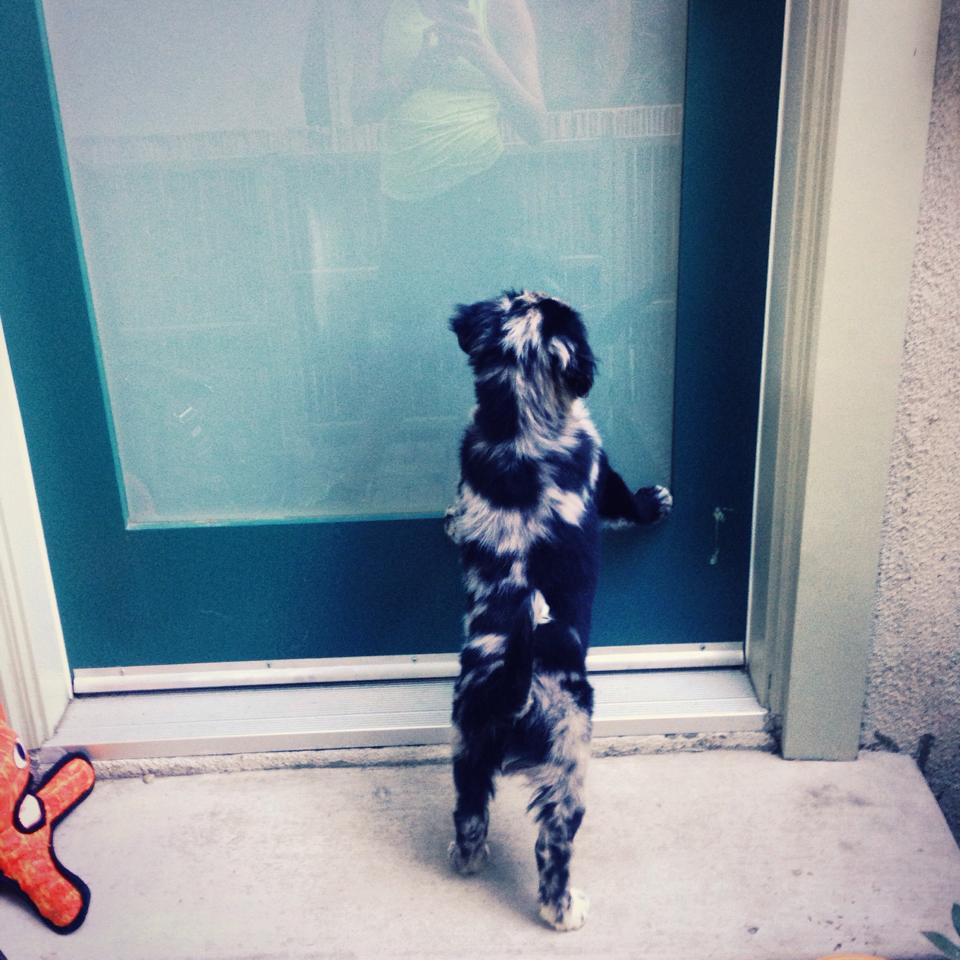 As adorable as she is, none of this has been easy. The first night I got her, she cried in her crate and I was so terrified she'd bother the neighbors. My less than lucid nighttime brain became convinced I'd be evicted for this. She pooped in her crate twice. I had to clean the whole thing out each time so she wouldn't get comfortable being in her own poop, thus defeating the purpose of crate training. She peed, too. She cried and peed and pooped and had diarrhea. Navidson just kept looking at me like, well, we've got this thing making a ton of noise, so there's that. I longed for the night before when he and I lazily fell asleep together in my bed in the cool air conditioning and slept till 11am. But that first night [and still every night] I had to take her out every two hours. I am a sleeper, and suddenly I was not being allowed any sleep. I think I slept a total of one hour. By morning, I was going to bring her back to Riverside, embarrassed and horrified and regretful and and was going to say, I just couldn't do it, I don't know what I was thinking, I am so sorry.
I have not reacted normally to adopting a puppy. Yes, they are hard and messy. But I have reached a whole new level of meltdown since Malta has come into my life. That feeling of panic I had that first night must have triggered my body to remember the other times I've felt that level of panic. Suddenly I was in the middle of my break up all over again. I woke up in pain for the next three days, longing for the person I'd lost, feeling like I'd never be whole again. This was so weird to feel. I have no desire to be with or even see this person ever again. I overcame that sinking break up feeling long ago. But here I was, losing my shit, panicked, miserable. I felt like I would never be able to do anything for the rest of my life. What if I want to move to Paris for a semester?, I thought. I hate Europe. I would never do this. But suddenly I couldn't do it and so I needed to do it or I'd be missing out and my life would be over. It didn't help that the night I adopted Malta, I had to miss my friend's film screening at the Kickstarter Film Festival, an event I'd been looking forward to for weeks. And I had to turn down an invitation from my best friend to go dancing at the bar across the street the next night. I had planned to go to Southeast Asia next summer for six weeks if I could afford it. I had just been granted two scholarships for two weeks worth of incredible classes at the Digital Humanities Summer Institute in Victoria, Canada for June 2015. What the fuck am I going to do??? is all I could ask myself. I cried to my mom on the phone every day for 4 days. My friends M & C came to visit from Utah on Sunday. They stayed with me, played with my dog, loved her, and all I felt was… nothing. I felt nothing for her. She was ruining my very carefully scheduled and coordinated and organized life. Not to mention I couldn't imagine how I'd ever make it through PhD exams with this needy creature in my house. But then M & C both said at the same time [because that's a thing people in love sometimes do], it's always better to do two hard things at once. And that really hit me. And made me feel strong. And gave me courage. It will come, M said. You will love her. You will get there.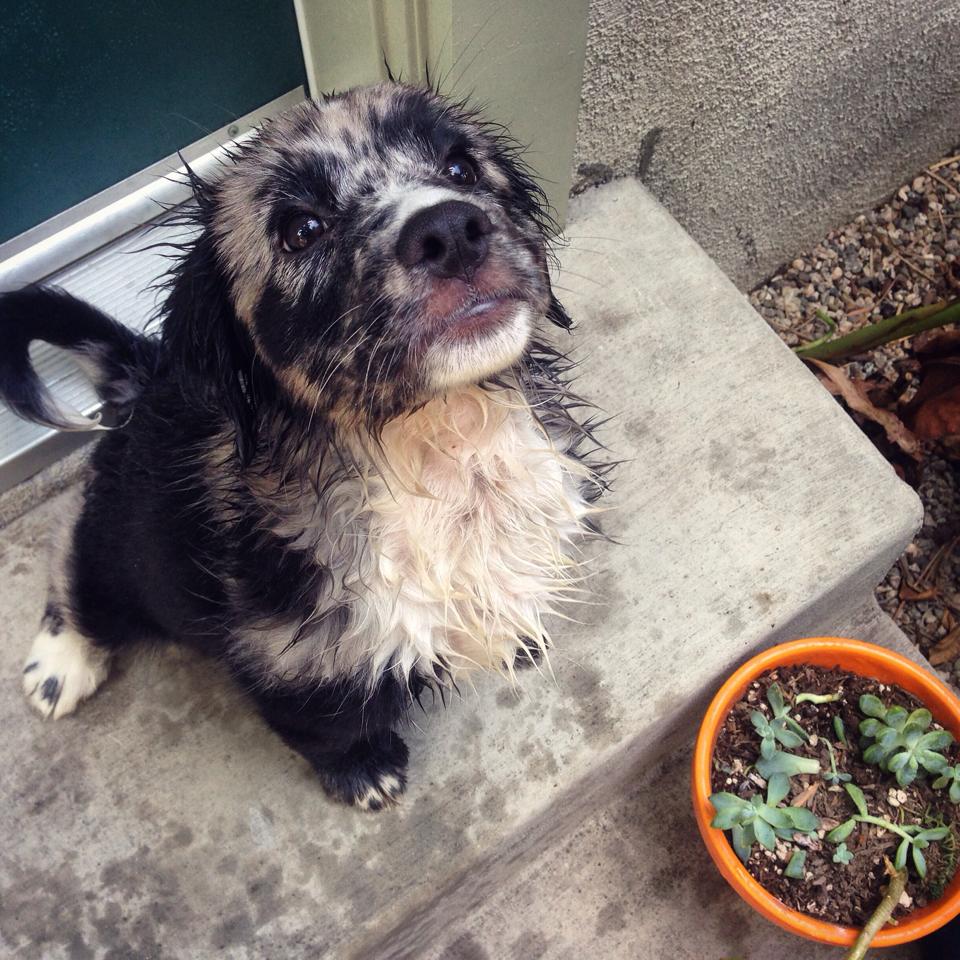 A very soggy puppy.
And she was right. A couple days ago, I looked at Malta and her eyes were so sweet and so loving, and she was just this fluffy ball of blood and beating heart born in the desert and she was mine, and I was hers. And now I am happy to wake up every two hours and stand in the middle of the night silence while she pees and I cheer and give her a treat, over and over and over again. And she's actually the smartest, most well behaved dog a person could ask for. She's basically already potty trained, which only took a week. She isn't destructive. She only whines for a few minutes when she first goes into her crate now, and even then only sometimes. She loves her toys and she's very friendly and curious. She loves all the neighbors and today she even got to play with the neighbor's dog in my yard. Now when I leave the house, I worry about her instead of feeling free from her. I want to be home with her instead of wanting to be anywhere else. My panic was so awful in the beginning that I had multiple friends over, put out pleas on facebook, and my mom was even going to fly out here at the end of the month to help me. But one week in, I am back to normal. And I am totally in love. Not to mention that since I got Malta, I've met all my neighbors and learned how incredibly kind and compassionate people can be. Like M & C, who sent me this package upon their return to Salt Lake City from Los Angeles: