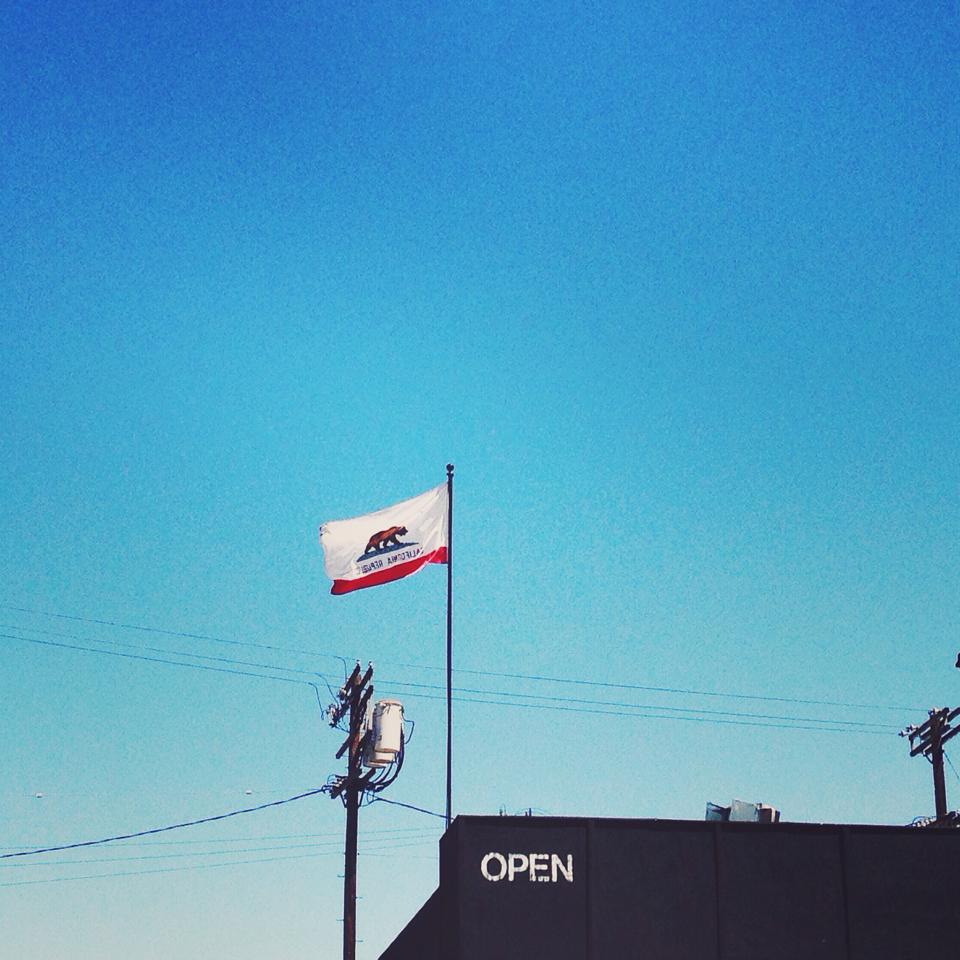 Los Angeles is charming as fuck. The day I got back here, my blood and bones longed for the mountain air and rainfall and wide open skies I'd just left. My East Hollywood neighborhood seemed crowded and chaotic and heavy and dirty and dry and I was overwhelmed. But last night I was driving home from my friend's comedy show at The Groundings in West Hollywood, and it was near midnight, and it was dark, and it was a Tuesday, so there were hardly any cars on the road, and I took Melrose to La Brea to Santa Monica, and I felt all those feelings I used to feel when I moved here two years ago. Possible and open and free.
I wanted to move here for so long. My ex lived here and I'd visit him and the lushness of this place, the endless opportunities and events and things to explore baffled me in a way I'd never been baffled before. New York was always just the idea of New York for me, but Los Angeles was real. I refused to refer to it as LA for a long time because I loved this person so much that I couldn't abbreviate the name of the place where he lived. It seemed wrong. And it wasn't my place. It was this distant place that I yearned for so badly, and I had to respect it and call it by its full and proper name. I did not belong to it and it did not belong to me, and a nickname felt premature. Roxane Gay has been tweeting a lot about her love for Los Angeles lately, and watching her long for here reminds me so much of my own longing. There is so much more to this city than people who don't live here ever seem to understand. It is Hollywood and movie stars and glamour and glitter and flashing lights, yes. And these things have a novelty to them that is still never quite lost on me. But there is also the ocean and the beach culture and the relaxed life style that seems to permeate parts of the west side. And there's the sparks and fireworks that are the most exciting, most artistic parts of this city. And there is the East Side, which feels so much like the Latin American homes I've had in my life, which is why I live over here, farther from the ocean, closer to myself.
The week I moved here, I drove over to an area of the city called Frogtown to buy an incredibly expensive dresser made of reclaimed wood from an artist I found on etsy long before. I'd coveted this dresser for years, and I finally decided that as a reward to myself for not only getting into a PhD program, but for finally getting to have the life I'd so often dreamed about, a life in LA, that I was going to buy myself this dresser. I went to his shop, over which was his apartment where I signed for my purchase and arranged delivery. He told me about Frogtown. How a lot of people who are even from Los Angeles don't know what it is. When my handmade dresser was complete, the artist himself delivered it to my apartment in East Hollywood. We moved it around my wood floor with the furniture blankets I'd still had sitting in my front yard from unpacking my things after my move. I gave him the entire stack of blankets when he left because he makes furniture for a living, and I'm not planning to move again any time soon.
I've had so many small experiences here that have shaped my understanding of this place. I've grown to know it in a way I've never grown to know another city. This is hard to explain, but where I'm from and in places I've lived, things are a lot bigger and a lot less crowded. There's more money, and when landscapes change, when buildings or developments or areas change, there's usually enough money in the project to raze an entire area and start new. But here, space is so limited and there's a lot of money but there's also a lot of trying to get by on very little amounts of money, and so when things change, they're not as often completely overhauled. Things have history here. The pavement has history. My neighbors who live in the apartment complex next to mine showed me a little square piece of concrete in the dirt in front of the gate around my complex last year. They told me it used to be a pay phone. This strikes me as incredibly confusing because I live in a neighborhood. I don't live on a street where there are any commercial developments. Just apartments and an elementary school. And this pay phone used to be in the middle of two apartment complexes. They told me the city had it removed after too many people had been shot while using it. And in South Central, where I go to school, you can still find remnants of barricades from the riots that happened decades ago.
Every day that I ride my bike to school, there are three people that I pass who I remember because they are always there: Man with Shopping Cart on Temple Street, Waving Balcony Man, and Parking Attendant Man. My second big hill on my ride to school is up Temple Street at Hoover and many days, I pass a homeless man with a shopping cart who is always really nice and smiles at me and I smile back and we tell each other to have a nice day and he tells me, "you can do it!" because at that point I'm usually out of breath struggling up that hill. He probably thinks of me as Strange White Girl on Bicycle. Then I finish the hill and turn the corner and there's Waving Balcony Man. He always waves. Always. And smiles. At first he smiled a little, but the more often he saw L & me, the more he'd smile. Then there's the parking attendant on Commonwealth who I only see when I ride in early, but who always bows his head to me when I smile at him and say "good morning."
This summer, I was riding home from my summer class one day and Waving Balcony Man was on the street corner. He and I had never spoken a single word to each other, but he immediately came up very close to me and pulled down the collar of his white t-shirt and showed me the area over his heart. There was a protrusion with blackish purple stitches. Like he'd had a pace maker implanted or something. He told me he was at the hospital. He said something about his heart. He was speaking English, but not well. So I spoke to him in Spanish, but he would only respond to me in English, and neither of us had a good enough grasp on the others' language to completely understand each other. He seemed tired and scared. For months I'd been planning to buy a DSLR camera so I could come shoot his portrait. But then I went to Mexico. And then I went home. And now I'm back and I haven't seen him and there are no longer chairs on the balcony and I'm scared that whatever was wrong with his heart took him away.
I have fallen in love with the parking attendant in my Los Feliz Trader Joe's parking lot. I have fallen in love with the delicious smelling restaurant on Hoover and Washington that I've never been to because I'm always on my way to school when I bike past it. I have fallen in love with buying sea salted caramel iced lattes at Dogtown and walking two blocks down to the ocean to drink them with the waves and sand at my feet. I have fallen in love with driving home from my best friend's old apartment through abandoned and silent downtown LA at two in the morning. I have fallen in love with my quiet neighborhood in Sherman Oaks where I go every Sunday evening to do yoga. I have fallen in love with the way the air touches my skin at night. I have fallen in love with the constant searchlights coming from locations I don't even know signifying events I'll never attend.
It's taken me a week or so to replace the mountain air in my lungs with ocean air. But I'm here now. Breathing salt. Listening to the sounds that sing me to sleep in my bungalow just east of Hollywood, just west of the LA river, just north of downtown, just south of the mountains or the hills that rise up and separate here from the Valley. It has taken me a week or so, but I remember now that this, too, is home.