New York City was a buffer. Between Israel and LA. Between my old life and my new life. My new life looks a lot like my old life, except it feels different. It feels distance, like it wouldn't recognize the me that left for Israel a month ago. New York City was a tease. Stripped itself naked, danced for me in bathwater weather, left me questioning why I didn't stay all those years ago even though I know better. I always choose the best time of year to visit the place I failed to live in successfully because I want to remember that place as something other than awful. And I do. I remember it as the most wonderful place on earth. As the place that punctuated almost every year of my childhood. As the first place I fell in love with, dreamed about, romanticized. In a lot of ways, New York City was my first love, and I was full of misunderstandings, but so much of me wants to hold on to that idea of that place, in spite of everything. But Los Angeles is my heart now. And we're a much better fit for each other. And when I drive through her[e], I feel my future in my bones, I rattle, I know where I belong. And Colorado is my home, always. But New York is my other other heart, beating over there on a coast I'll never live near again if I have any say in the matter. But to visit, and flirt, and say hello, and fall almost back in love…
On my very first night, only a few hours after landing back in the states, I went downtown to meet my best friend from my LA program and my best friend from my Utah program. Two of my favorite people converged in the place where I didn't meet either of them, and we had foods and donuts and talks.
New York was a little colder than I expected it to be, so I had to borrow a lot of my grandma's clothes. She's 81 and saved all her clothes from the 70's on, which means I had an entire closet of vintage Dior, Ralph Lauren, etc, to choose from. I often photographed myself in her elevator in these outfits. And post rain storm.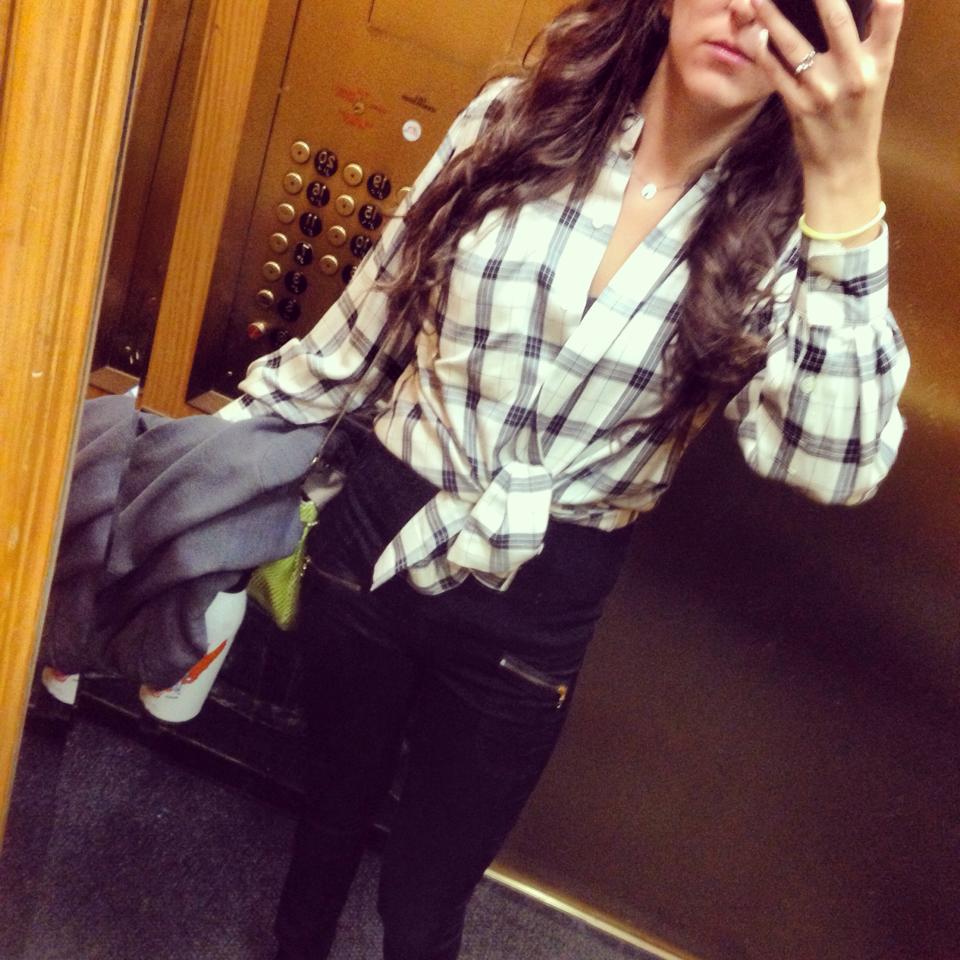 I got to keep this Dior.
I got to see so many people and do so many things. AS, my photographer friend from Ohio last summer. AF, my bff from Utah. L, my bff from LA. D, my good friend from Utah who drove up from Pennsylvania to spend memorial day with A and I at Coney Island. T, my high school/hometown friend. Three people from my Israel trip who either live in NYC or stuck around a few days: C, N, and D. R, one of my oldest friends from when I was 7 or 8. I got to see AF do stand up in a bar basement while it poured rain upstairs.
Wandered Central Park with AS in drizzling rain, then took refuge in a hipster bar where we ate soft pretzels and drank beer and met these awesome strangers.
Went to the Botanical Gardens and then lunch with C for her birthday.
Met D to say goodbye in Prospect Park. Ate italian ice on a Turkish Airlines blanket. Watched people play park games.
Spent time reading and recovering and sleeping in my grandma's apartment where my grandma took good care of me.
Wandered Brooklyn and Queens and Manhattan.
Ate brunch with N in Brooklyn on Memorial Day.
Ate second brunch with AF & D in Brooklyn on Memorial Day before we took the train to Coney Island, a place I'd never been before. It was all bubblegum and brightness, crowds and heat.
Ate. A LOT.
Met R for late night drinks at a bar in our neighborhood. Caught up after 8 years of not seeing each other after we both bailed on the awful college we went to in NYC [Staten Island] for only one semester.
Went to PS1 in Queens after a lovely breakfast with T, who I haven't seen since I stayed with her in Brooklyn this time last year. Also wandered 5ptz, whitewashed. Talked to my best friend on the phone for two hours while wandering a parking lot outside a coffee shop where I eventually had coffee and a cupcake before heading back to Manhattan for my last night in NYC.
On my last night, I met back up with N for dinner and drinks and goodbyes. Then we met AF and all went to the Comedy Cellar for the 12:15am show with Dave Attell, Greer Barnes, Jay Oakerson, Bobby Kelly, Allan Havey, etc.
I didn't get home till something like 4am. I woke up at 8am to pack and catch my flight back to Los Angeles. I had to come back here for a summer class I'm taking, which is a whole different post I'll have to do later. I didn't want to leave New York because I didn't want to leave Israel. Staying as far east as I could meant staying closer to those people and those memories I don't want to lose. It's only the first week of June and already I feel like I've both lived through an entire summer break, and also like I've had no break whatsoever. I went to Israel two days after school was over, then came back to LA two days before my summer class. Tomorrow I am going to Mexico for a week. Then three days of summer class, including a trip to Tijuana. By mid-June, I should be a human again. Maybe.